Home

About the Project

About the Artists

How to Purchase

About the Video

Education

News

Links

Contact Us
"MC P.C., Larry King, Is in the House"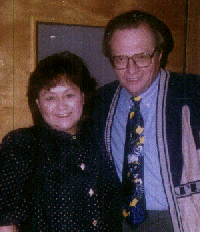 Larry King didn't exactly rock the mike at the Rainforest Alliance's April 5 fund-raiser roast of Ted Turner. But the CNN talk-show host, who's down with the celebrity set because of his softball questions, seems determined to prove that he can rap as well as talk.
Mr. King told The Observer's Carl Swanson that he just finished filming a video for "Save the Rainforest", a perky, world music-inspired song that he recorded last year. Mr. King's mind apparently was not on his money, nor was his money on his mind when he agreed to rap to such rhymes as "Yo! Yo! Stop cutting down all the trees. We need a home for the monkeys!" and the cerebral but nevertheless fly "Protect fish and exotic plants who can't speak in their own defense. I'm Larry King but one thing more/ Facts do not cease to exist because ignored." Still, some CNN devotees may conclude that Mr. King's omnipresent suspenders are holding up ultrabaggy B-boy jeans once they hear him close the song with "Word up, Governments/ Get it done!"
"He does an excellent rap," said Grace Birdwell, a suburban Maryland corporate communications consultant who wrote and produced the song with her husband, Tom. Mr. Birdwell sings -- but doesn't rap -- as the frontman of Malvin and the Have-Nots, a band that the Birdwells populated with local musicians. "Malvin is my performing name, as well as my middle name." explained Mr. Birdwell.
"Save the Rainforest" is the first single off the band's socially conscious debut CD, which will benefit the Red Cross and the Pediatric AIDS Foundation. Mr King also appears in the video, which includes him rapping interspersed with footage of rain forests. Mr. Birdwell was going to sing it, but there was the problem of the "breakdown" in the middle of the song, he said, adding, "Then one night we were watching CNN and just looked at each other and said, this is it."
-- From The New York Observer, Volume 9, Number 16, April 24, 1995.
Get your copy of Save the Rainforest on CD from Amazon.com by clicking here or the music video featuring Larry King by clicking here!