THE SEVEN DAYS OF CREATION
"I wanted it to look like it had always been there," says artist David Pushkin of "Creation," his monumental six-panel stained glass work,recently installed in Congreation B'nai Jacob, a small but thriving Jewish synagogue in Charleston,West Virginia.

The radiant windows, commissioned by the Congregation to commemorate its centennial anniversary, stand as a living symbols, manifesting a timeless spiritual truth in the ordinary, temporal world. And just as each corner of creation somehow reflects the whole, Pushkin's work is both site-specific and universal.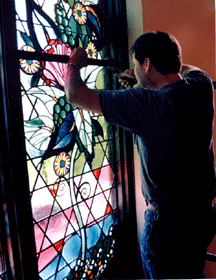 The Genesis of all things is painted in richly colored glass, mostly from Blenko, the renowned West Virginia factory. Chassidic symbols rise from a geometric background suggestive of American patchwork; luminous celestial objects shine over a rolling "firmament" evoking West Virginia's mountains; the entire shimmering Dome of Heaven is bordered by a repeating pattern copied from one of the temple's own light switch covers. The effect is awesome, yet familiar and inviting.
Jewish folk art of Eastern Europe was a major influence on Pushkin, a New York City-based painter and printmaker who, prior to this commission, had never worked with glass. "It was not based on any "modern" art ideas, but on the decorations found in the old wooden synagogues of Europe, most of which were destroyed in the holocaust," he explained.