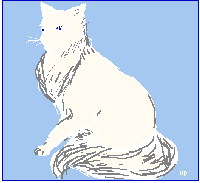 Cat Tales and Other Things
Mallika Pichumani made this cute kitty for my cat page.
A Canine,our dog, Bo. When neighbors tried to find a home for a male dog, I said no - I didn't want a male, log-haired adult dog...but some weeks later their friends, the ones who had found him and were looking for a home for him asked if they could drive out and let us meet him...
Ratstocats - Cat cartoon/drawings and poems...
Here is a true story about a "doomed" kitten that was seduced by catnip.
There's also a rather different version of a story with a familiar title, the Owl and the Pussycat.
Here is an article I wrote about Cat-Plants for a publication called the Wild Foods Forum.
(BTW - Remember the Pied Piper? It is said that he used one of these so-called cat-plants to rid that town of all those rats.)
Another plant-related story which I wrote for my local Audubon newsletter is "The Tree that was a Murder Witness."
My favorite liverwort :-) I've only seen it once.
---