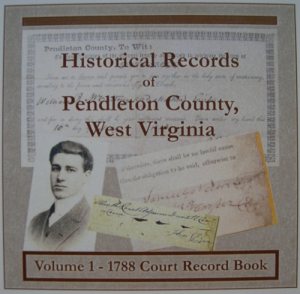 Historical Records
of
Pendleton County,
West Virginia

A series of CDs containing color images of actual historical documents and photographs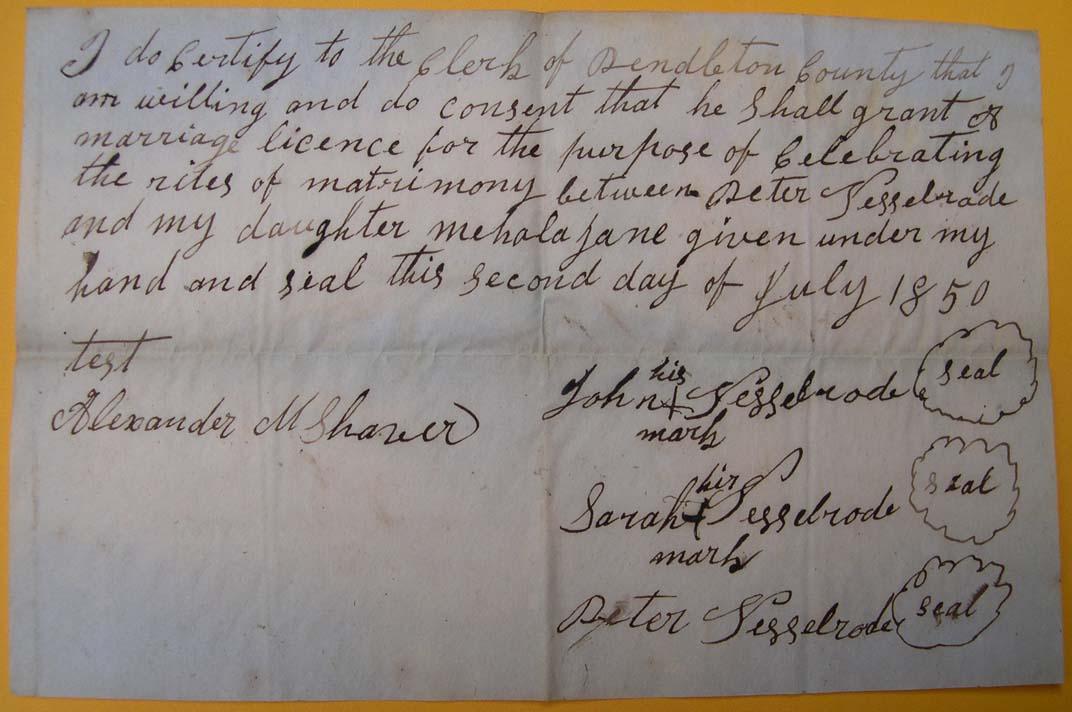 Volume 1 - 1st County Court Record Book 1788
The pages of this original book were photographed in 2005 in the Clerk's Office of the Pendleton County Courthouse, with permission. An 11x17 inch printed copy was donated to the Clerk for use on the public shelves in place of the original. This CD contains the original photographs as well as the digitally enhanced versions used for printing.
Volume 2 - 19th Century Marriage Records
This collection of marriage records from 1826 to 1857 was located in a private collection. The records were borrowed and photographed with permission. They include ministers' returns, marriage licenses, marriage bonds, consent forms, and original signatures, primarily from the 1840s. Due to time constraints, there is no index to this CD nor list of names appearing in the records.

Volume 3 - Letters and Photographs
19th century letters from the Hammer family + photos of the Byrd, Harper, and Hammer families, photos of items from the Ambrose Meadows home and the Mauzy home in Franklin that burned in the 1924 fire.

Volumes 4-8 contain the index pages for the books listed under each volume title. They will allow you to locate the books that have entries on your ancestor. CDs of full books will be available as time allows. I will film these books in the order they are requested. For example: if you order Volume 5 and find entries for your ancestor in the index for Record Book 1810-1817, send me an email requesting that I copy that book and put it on CD as soon as possible. Future planned volumes include marriage bonds and the early Births, Marriages, and Deaths Index.

Volume 4 - Court Record Indexes 1788-1822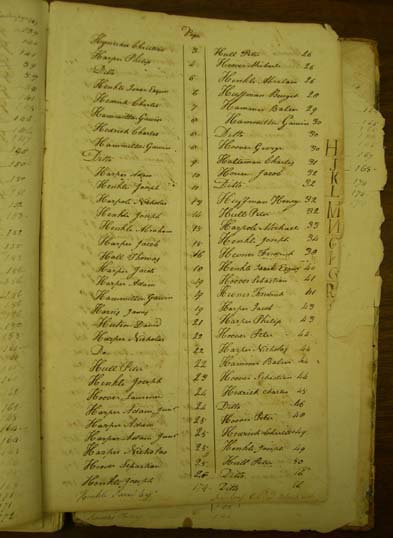 Common Law Order Book 1804-1815

Executions Book 1796-1809

Fee Book 1807-1811

Fee Book Circuit Court 1800-1802

List of Surveys 1789-1818

(images show book in its entirety)

Location Book No. 1 1788-1822

Minute Book 1788-1795

Minute Book 1802-1805

Minute Book 1805-1807

Minute Book 1807-1810
Volume 5 - Court Record Indexes 1809-1856
Common Law OrderBook 1809-1831

Executions Book 1822-1828

Executions Book 1828-1834

Executions Book 1809-1822

Executions Book 1809-1855

Index to unknown book

Plain Paper Cover 1808-1856

Record Book 1810-1817

Witness Attendance 1809-1828

Witness Book 1807-1826
Volume 6 - Court Record Indexes 1822-1911

Administrators Bonds 1844-1891

Chancery Docket 1827-1859

(images show book in its entirety)

Chancery Executions No. 1 1833-1911

Common Law Order Book 1831-1868

Common Law Executions No. 1 1855-1875

Executors Bonds 1844-1909

Fee Book 1843-1868

Location Book No. 2 1822-1850

Location Book No. 3 1850-1861

Minute Book 1844-1849

Minute Book 1850-1856
Volume 7 - Court Record Indexes 1857-1896

Bond Book 1868-1894

Bond Book 1866-1872

Chancery Order Book 1872-1883

Chancery Order Book 1874-1880

Chancery Rules 1874-1880

(images show book in its entirety)

Execution Book No. 6 1857-1873

Free Negroes

(images show book in its entirety)

Law & Chancery Process Book 1877-1880

(images show book in its entirety)

Record Book 1873-1876

Record Book 1876-1881

Special Commissioners Bond Book 1873-1896
Volume 8 - Court Record Indexes 1867-1906

Board of Supervisors of Townships 1867-1880

Chancery Order Book 1883-1893

Chancery Order Book No. 4 1893-1898

Chancery Rule Docket 1883-1906

Common Law Order Book 1881-1886

Common Law Order Book 1892-1898

Common Law Order Book 1899-1906

Common Law Execution Book 1872-1914


Execution Docket 1886-1978

Justices Executions 1867

(images show book in its entirety)

Record Book 1882-1902
Please note that the images on these CDs are covered by the U.S. Copyright laws governing photography and are for personal use only. They may not be reproduced or emailed to others without permission.

To order any of these CDs, please send a check or money order for $10 per CD (S&H is included) to:

Marsha Fuller
P.O. Box 3623
Hagerstown, MD 21742

[Maryland residents add 50 cents for tax]

When ordering, please include your email address so I can let you know when more volumes become available.


To view the jpg images on the CDs, one recommendation is to use IrfanView. It is available as a free download from www.tucows.com
The first time you open the program, click on the View menu and choose Display Options. Click on Fit images to Window. This will give you the best viewing. You can move from image to image by using your mouse's scroll wheel, or the Page Up and Page Down keys on your keyboard.

Another easy way to view the files is to open Windows
®
Explorer, click on the View menu, and choose Thumbnails.


If you have any questions about these CDs, please send them to:
mfuller@fred.net
Copyright 2005, Marsha L. Fuller
Harper Family Historian
All rights reserved