The MacCulloch/ MacCulloghTartan
I told the designer to use the Ulster, MacDougall, Ross, and Galloway tartans for departure points, since McCullough is associated with those. The first iteration the designer sent me five choices. I evaluated them and posted the choices and got others opinion. The overwhelming choice was "E". To see the effect of some changes I asked for some variations on two of them. I reposted the images and asked again. I also asked around at a couple of highland games to some Rosses and MacDougalls. The choice was about half and half for the new and the old choice "E". So, I just picked one. (I picked the new "E"). The final tartan shown below was picked after the color selection. Finally we had the new tartan registered in Scotland as MacCullough/MacCulloch.
Ordering Material:
Since I am no longer making kilts I am presently reduced to just sell ing off my remaining stock of 13 oz and 16 oz McCullough/MacCulloch modern material. (My email is kilt@xecu.net ) I did get as far as working with the designer to come up with a Dress McCullough/MacCulloch (see below) but I have not had anything more than the sample cloth made. There are at least six or seven lucky people, though, who have had kilts made in the modern version new tartan, so we are at least public now with the new tartan.
The half pivot thread count of the modern tartan is: Ginger/3 K8 G40 R2 W2 G4 B20 R40 W4 K6 Ginger/5
If you wish to make an orginal order for the modern or dress material I suggest the designer Peter MacDonald. You can reach him at tartan@zetnet.co.uk . He has a web page at http://www.scottishtartans.co.uk/ I did send samples to other major tartan mills, so they might could make some also. The House of Tartan at http://www.house-of-tartan.scotland.net/ also carries the Modern McCullough/MacCulloch as a special weave tartan, so you can also order it from there.

---
Scanned Images from the Approval Strip
Close-up of the tartan
This is what the Dress version looks like. I think it is almost better than the modern tartan. Don't you think that it is just the thing for formal occassions or for dancers? It would be good if someone could come along-side and help me with the McCullough/MacCulloch cause.


This is what the sample piece looks like.
This is the registration certificate for our new tartan from the Scottish Tartan Authority
---
Final Tartan Sett Selection
Electronic Graphics Version
TrialE1.gif
It doesn't show very well, but the strip between the double white lines that is inside the red region was changed to tan, in order to match the tan strip between the black lines that is in the green region.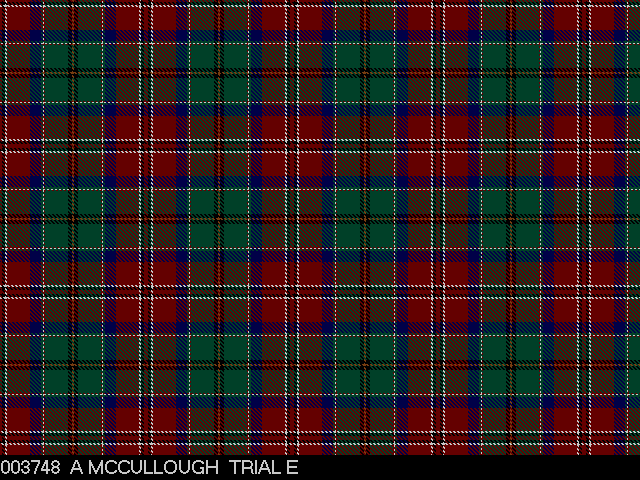 ---

Last edited 9 June 2003.
Send comments to kilt@xecu.net