Photography by Tom Schneider
Images here are copyright by Thomas D. Schneider. You may use them for personal uses (eg as a screen saver) but they may not be sold or used commercially. Please contact me for commercial use. Also, these are 'share images': if you really like one and would like to contribute something, please email me. (Sorry, you'll have to either eliminate all spammers from the world or fix that email address by hand.)
Snow Drift. I like the zen like quality of the shading - light on one side, dark on the other and fading between the two around the edge. (1.8MB = 1813324 bytes)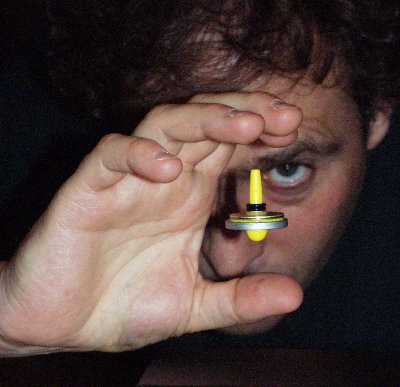 Tom learns to levitate. The Super Levitron was from the Discovery Store, but it is not available anymore ;-( Since there is a patent, you can search Google for Levitron + "5,404,062".
An example of a source:
Patent 5,404,062
Patent 4,382,245
Explanation (as I understand it): The top is a magnet with the north pole pointing down (say) and spinning. It is spinning above 4 magnets which have the north pole pointing up. The top has a yellow handle on top and a yellow plastic base on the bottom. What you don't realize from the photo is that at the bottom of the picture is a part of a dark square. This is a set of 4 magnets set in a square inside a black box. Interestingly, it has been mathematically proven that magnets alone cannot levitate stabily. However, surprisingly, if a magnet is spinning it can be stable when it sits in a magnetic well. I was able to get it to stay there about a minute! Above the yellow base are rings that one has to adjust to balance it vertically in the field. Looks like I had one large ring and one small yellowish ring. Above that are two black O-rings that hold the others in place. It takes some playing around to find the right weight and unfortunately the magnets change strength with temperature, so a working arrangement is not permanent.
---
Other collections
---
Photographs were taken with an Olympus C-2500L. It's a through the lense, near film quality digital camera.

Information and Reviews:

Here are the components I got: I later got more toys:
I had trouble transferring data using the Flash Path floppy device so I upgraded to a CameraMate from Microtech, which is a USB device that takes both SmartMedia and CompactFlash. Data transfer is 12 times faster! The nice thing about this device is that it handles both kinds of card that the camera handles.
I bought a U5000 tripod from Slik. (Don't buy the SLIK U5000. It has a nice design and is compact, but it broke in 2 years.)
---
Camedia E-20N
I now have an Olympus digital Camedia E-20N It has 5.0 megapixel, 4x zoom with a gazillion features. Olympus has made dramatic improvements in this camera, but it is larger than the C-2500L.
MEMORY . I got two 512 MB CompactFlash cards by SimpleTech from Insight. Yes, they are expensive, but very impressive: each can carry 332 high quality images. So I can go on a trip and take up to 664 pictures! At 36/roll that's 18 rolls of film in a tiny volume (two of 4.3 cm x 3.7 cm x 0.5 cm).
USB . The E-20N has a direct USB connect, which is a dream. Power off the camera, connect to a Mac running OS X (Unix based!), switch camera to transfer, power up and voila! The images can now be copied to the computer. No special boxes to buy ...
TRIPOD . SLIK replaced my broken U5000 tripod with a U5500. Unfortunately it is larger, does not fit in my pack and still has the same poor leg design. However it is taller and so more flexible. It has a bit of plastic that screws to the camera to provide a quick mount, but this takes up space and so I can't leave it on my camera.
BATTERIES . As above, don't spend lots on them. See Thomas Distributing. Get the MAHA NEXcell 4pack AA (1400mAH 1.24V). I found that it works fine.
CASE . The only carrying case available from Olympus has space for a battery pack. If you don't have the pack it is a bulky waste of space. My mom happened to have a perfect case, but I don't know where it is from! (Sorry, it's not for sale ;-)
PROTECT YOUR LENS! . Get a 62mm UV filter. I ordered one but the company sent me a polarizing lense instead. It works and makes interesting effects. Source (not the one I used): Robin Kanta Photographic Supply
REVIEWS .
STORES . NOTE: low price may mean horrible service! Check the reviews. To avoid problems with the Grey market be sure to get stock number: 225315, UPC Code: 050332 135239, Silver Box.

www.cnet.com. Includes reviews and pointers to places to purchase.
---
Tom Schneider's Home Page
origin: 2000 February 19
updated: 2010 Sep 23

---