Toyota Prius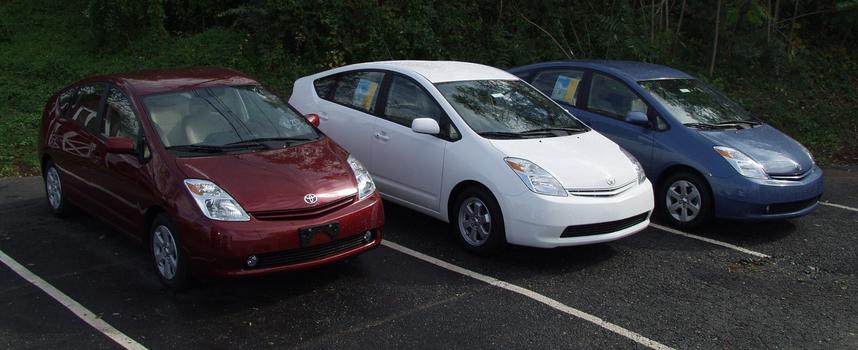 The Toyota Prius is a hybrid gas-electric car that gets great gas mileage.
Tom's story

I wanted a Prius with a hatchback, wrote to Toyota some time ago to suggest that and ... they built it! (I don't know if they followed my suggestion or not ...) I got that pretty red one on 2003 Oct 28. Every time I learn a new fact about this car I am stunned again. It is extremely gas-efficient, aerodynamically designed and recyclable! Most amazing is that Toyota has redesigned everything and incorporated new technologies everywhere. The price for a new one was initially is the same as the old Prius ($20,000), but it has gone up to $21,415 (as of 2004 Oct 9).

Toyota Web Sites

Information about the car

2005 Prius

Environment

News Stories

Automotive Design & Production. They put the car into industry context. 'Late in 1994, about a year after the committee was formed, a concept vehicle was developed called the "Prius," taken from the Latin word for before, as in "ahead,"not something from the past.. They quote from the Third Toyota Environmental Action Plan.
news.shopeasier.com Articles on Prius
Technology Review April 2004, page 34. "Hybrids' Rising Sun" by Peter Fairley (requires free registration)
Toyota Prius Race Car by Peter Lyon, Car and Driver, April 2004. It looks like this may launch an ECO race!!! It's about time!! In this race not only must you race to speed, but you could come to a full stop, which would give an advantage to a hybrid ... Now why didn't anyone think of such a race before?
Wired May 21 2004. "For Speeders, Hybrids Suck Gas" by John Gartner.
The Christian Science Monitor April 22, 2004, "Earth Day's biggest challenge yet" by Mark Clayton, describes the Planetran limo/cab company that uses the Prius to reduce global worming.
Fighting gas prices, Hybrid a change for the better? The high cost of gas is driving people to buy these cars, but the savings may not be as much as they think Tom Incantalupo, www.newsday.com 2004 June 9
Hybrid Vehicles Hit the Heartland...Barely by Danny Hakim, published: June 19, 2004. The New York Times 2004 June 20
Suddenly, It's Hip to Conserve Energy by Timothy Egan, published: June 20, 2004. The New York Times 2004 June 20. "hybrids are popular in Virginia partly because they are allowed in the car-pool lane even if the driver is alone in the vehicle." See article below.
Hybrids Putting More Virginians In the Fast Lane HOV Exemption Upsets Carpooling Commuters By Steven Ginsberg, Monday, April 26, 2004; Page B01. 2004 June 20.
2004 June 29 (new as of 2005 Apr 12): Driving green: My hybrid days. We take the Toyota Prius into the real world of New York City and find a few surprises. CNN by Peter Valdes-Dapena.
TOYOTA PRIUS CRASH TEST Newstreet auto magazine 04/07/2004. "Toyota Prius gains 5-star Euro NCAP accolade. Hybrid car gets class-best 34 points and highest ever child protection score. Prius is first ever hybrid to be tested by Euro NCAP. A further 125 actual crash tests confirm optimum passive safety." 2004 July 7.
Revenge of the Nerdmobiles: Hybrid Cars Suddenly Got Hot in 2004. Did Brains Finally Triumph Over Brawn? by Preston Lerner. 2004 Aug 29.
Why Hybrids Are Hot by James Surowiecki. Wired Issue 12.09 - 2004 Sep.
2004 Nov 6: Sport: Got Hybrid? Barred from every one of Bonneville's 543 classes, the Toyota Prius creates a new one. by Aaron Robinson, Car and Driver, November 2004
DaimlerChrysler, GM team on hybrids: Automakers will jointly develop new hybrid motors to compete with Japanese rivals. CNN. Gee - they are only 5 years late!
2005 Jan 2: Yellowstone Park Prius
2005 Apr 7: Dave Arthurs built a hybrid in 1979 and got 75 mpg!
2005 Apr 12: Used Prius prices like new: High gas prices, long waits bring used Prius prices above list price of a new model, study says. CNN
2005 Apr 19: A hybrid-solar car from down under!
2005 May 9: Invasion of the Green Machines. High gas prices have drivers chasing after hybrids. Is it a fad or a phenom? By Richard J. Newman, U.S. News & World Report (volume 38, number 17, p. 48-54.)
2005 Aug 14: CalCars the California Cars Initiative and EDriveTM are adding more batteries to Prius cars so that they can be plugged in at night and run from the electric grid. They see this as another stepping stone to getting away from oil since electricity can be generated from renewable sources.
2005 Aug 15: 250 miles per gallon? They're doing it
2005 Oct 24: THE CAR THAT MAKES ITS OWN FUEL, IsraCast. Well, not exactly of course. It burns metal to metal oxide using water. This produces hydrogen that is burned in a fuel cell to run the car.
2005 Oct 27: Consumer Reports: Most reliable cars '06, CNN. The Prius made the list.
2006 Apr 17: Crash tests: Toyota Prius, small cars and minivans, CNN. "The Toyota Prius hybrid car, when equipped with optional side impact airbags, got top marks for front and side crash protection in crash test results released Sunday by the Insurance Institute for Highway Safety."

Toyota Prius rating by the Insurance Institute for Highway Safety

2006 Jul 26: Pulse and Glide to 110 Miles per Gallon! From Eric Powers,
2006 Aug 22: Study: Hybrid cars will pay for themselves over time

The consumer-focused automotive Web site said that, assuming vehicles were driven 15,000 miles per year and gas was priced at $3 per gallon, owners of the Toyota Prius and Ford Motor Co.'s Escape Hybrid would break even within three years.
--- CNN Tuesday, August 22, 2006; Posted: 5:38 p.m. EDT (21:38 GMT)

Misc

Tax Incentive Are Being Phased Out! back!

"If you buy a hybrid new, you may be eligible for a one-time federal income tax deduction of $2,000 1,500 $2,000! The IRS has determined that purchasers of a new Honda Insight, Honda Civic Hybrid or Toyota Prius are eligible for a "Clean-Fuel" vehicle tax deduction of $2,000 1,500 $2,000. The current incentive is scheduled to phase out in 2004-06."

The Maryland Energy Administration's Clean Energy Incentive Act CLEAN ENERGY INCENTIVE PROGRAM for ELECTRIC AND HYBRID-ELECTRIC VEHICLES, which removed the Maryland sales tax, was phased out on 2004 June 30. (We now have plenty of energy, right?)


Custom Prius Accessories

Prius Meetups and Online groups

Hybrid Electric Vehicles

Wasteful Vehicles

A Google search for '2004 Prius' shows this web site is near the top!


Other web sites

Fuel cell cars A Week Without Dinosaurs Dan Neil, 2004 August 29, LA Times.

2005 Aug 22: I Can't Afford My Gasoline

2005 Oct 9: In September I wrote to Toyota asking for a new car: "It would be a prius like this one but it would have solar panels over the entire surface." But maybe somebody is working on this already?



Design Here I will put a few comments on the design of the Prius, from a users viewpoint.

My biggest difficulty is visibility. The hatchback has two windows, and the rearview mirror is just big enough to exactly cover those windows. Overall the visibility is reasonably good and one gets used to using the side mirrors.
Acceleration is sufficient to travel in traffic with no problem.
The turning radius is very tight, probably even better than my previous car, which is a 1986 Toyota Corolla, and that was amazing.



Photography I took the picture of the three 2004 Priuses at the top of this page using my Olympus E-20N. It was a fluke that Darcars Toyota, where I bought my car, just happened to have these colors. After I mentioned it to the Sales Consultant Joe Bushong-Taylor (301-662-8292,jtaylor@darcars.com) we spend a little while lining them up.


cartoon about electric cars (2004 May 5) at The Official Mother Goose & Grimm and Mike Peters Website http://www.grimmy.com/.


2004 May 28: My 2004 Prius finally got 50 mpg in stop-and-go traffic!

2008 Jun 05: How I got my Prius at Hybridcenter.org
When the original Prius came out, I wanted a Prius with a hatchback like my old Toyota Corolla had. So I wrote to Toyota suggesting that and ... they built it! (I don't know if they followed my suggestion or not ...). The Corolla was falling apart after 18 years so I was renting while waiting for the first 2004 Prius to arrive. When they did, I went to the lot to see them even though they were for other people. We looked at a red one, which was nice. Then we inspected a white one, but I didn't want to deal with the dust on it. Finally, we looked at a blue one, which was my color choice, although mine was still in shipping. When I said I didn't like the blue, Sales Consultant Joe Bushong-Taylor jtaylor@darcars.com said that the red one might be available. Later that evening he called to say I had won the lottery and the red one could be mine! I went the next day to pick it up. I realized that the order I had seen the cars just happened to be: red, white and blue (this being a very patriotic time after 9/11). So we lined up the cars and I took the picture.
---
Tom Schneider's Home Page
origin: 2003 Oct 23
updated: 2008 Aug 15

---