The Management of Web Projects
Note:
This page was created for use in my former teaching at the University of Pittsburgh. It is only occasionally updated resulting in many links being more of historical rather than current usefulness. Over time many links will suffer link rot.
---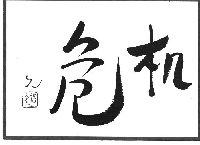 CRISIS AS OPPORTUNITY
The Chinese word for "crisis" is made up of two parts: "danger" and "opportunity".
"Danger": originally pictured as a man on the edge of a precipice.
"Opportunity": a reminder of the seemingly small but important opportunity that can come out of danger.
---
Module 1: Management Considerations
Module 2: The Project Life Cycle
Module 3: The Project Team
Module 4: Planning for a Web Site
Module 5: Project Scheduling
Module 6: Project Scoping and Estimating
Module 7: Project Control
Module 8: Resource Management
Module 9: Configuration/Change Management
Module 10: Managing Web Content
Site Management / Team Development Tools
Project Web Sites
---
Resources
---
More...
Information Architecture / Usability / Visualizing
Books
Critical Chain by Eliyahu M. Goldratt
Introduction to Critical Chain Project Management from ProChain Solutions [click and drag across the "empty" bottom half of the page]
Resources from Web Development Basics Class
---
** Home ** Class Pages ** Site Map **
---
David J. Hark
HARK/INTERNET-HELP, Inc.
P. O. Box 201 Shepherdstown, WV 25443-0201
304-876-2607
N8GMQ
dhark@fred.net
dhark@intrepid.net
http://www.dhark.com
http://www.fred.net/dhark
Last updated: 20 April 2003
© 1998, 1999, 2000, 2001, 2002. 2003 David J. Hark