Web Accessibility and Section 508

Training for Experienced

Web Designers
---
"The wonderful thing about standards
is that there are so many of them to choose from".
Rear Admiral Grace Hopper
---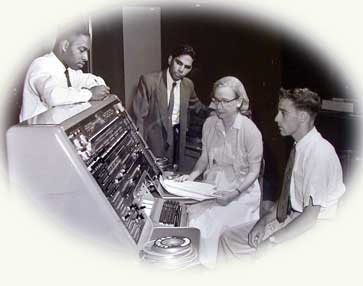 Rear Admiral Grace Hopper, USN,
with other programmers at UNIVAC 1.
This page is divided into the following major sections:
What Do I Call you?

Crippled
Person With Disabilities (PWD)
Handicapped
Differently abled
Physically inconvenienced
Physically challenged
Special
Among people with functional limitations, the term "disability" has become the most widely accepted term. It is an accurate, succinct description, which encompasses most people with physical disabilities.
An example of political correctness is the changing terminology used to described handicapped people. In the past the term "crippled" was perfectly acceptable and not considered offensive. At some point, somebody decided "crippled" was degrading and the preferred term changed to "handicapped". This, too, was eventually deemed offensive and "disabled" became the preferred term. Today, "disabled" is now considered degrading and "differently abled" and "physically challenged" are now the politically correct terms.

Section 508
Section 508

What is Section 508?
What Does it Mean to be "Accessible?"
Standards Make the Job Easier
Other Forces for Accessibility

Text Equivalents

Text Alternatives for Images (alt-text)
Choosing Text Equivalents for Images And Image Links

Assessing Your Site's Accessibility

Accessibility Toolbars
Using Your Browser
Using Lynx
Using Other Evaluation and Repair Tools

Navigation

Accessible In-page Navigation

Accessible Image Maps

Examples of Image Maps
Accessible Image Maps

Audio and Multimedia

Some Definitions
Requirement for Captioning
SAMI
SMIL
Video Descriptions

Special Cases

Never Depend on Color Alone
Color Contrast
Avoid Flicker
Timed Responses
Text-Only Page as a Last Resort
Summary

Accessible Forms

Push Buttons
Generalized buttons
Text Entry Fields
Radio Buttons and Check Boxes
Select Menus
Title Attribute for Form Controls
An example collection of form controls

Accessible Tables

Table Basics
Using the caption element and the summary attribute
Using Column and Row Headers
Using the headers Attribute

Scripts and Applets
Cascading Style Sheets

Style Sheet Overview
Individual Settings
Reading Web Pages without CSS
Using CSS to Simulate Markup - Don't
CSS Positioning
Background images
Visibility and Image Replacement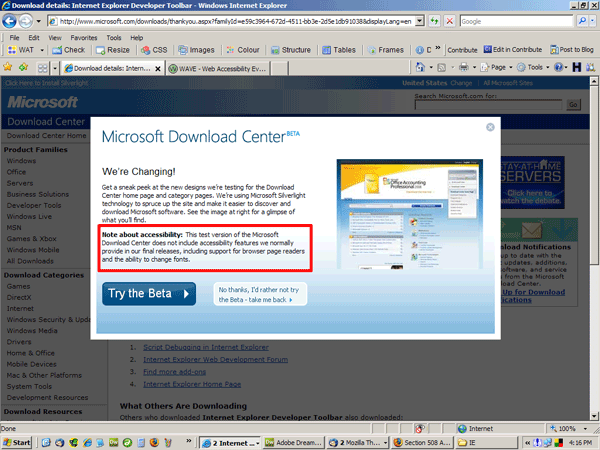 Note about accessibility: This test version of the Microsoft Download
Center does not include accessibility features we normally provide
in our final releases, including support for browser page readers
and the ability to change fonts.
Back to top
Review of Section 508 Standards for Web Accessibility
Review of Section 508 Standards for Web Accessibility
Other Resources



Users found the site easy and fun to use!
---
the WCAG By David MacDonald © 2005-2008
WCAG 2.0 Theme Song This is the theme song for the new WCAG 2.0 which is a W3C recommendation. Accessibility consultant David MacDonald wrote it during a Face to Face WCAG meeting in Los Angeles. He did the instruments, programming, vocals and mixing in his home studio.
Standards and Organizations
The World Wide Web Consortium (W3C)
W3C's Web Accessibility Initiative (WAI)
Section 508
508 vs WAI
Americans with Disabilities Act
---
Organizations and Companies
Adobe
Hewlett-Packard
IBM
JISC TechDis Accessibility Essentials
Microsoft
Trace Research and Development Center - Trace Center
University of Illinois at Urbana/Champaign

WebAIM: Web Accessibility in Mind
Wikipedia
---
Technologies and Issues
Accessible Rich Internet Applications (ARIA)
Design
Semantic Markup
Assistive Technology
Age
Forms
Tables
Java
JavaScript and Dynamic HTML Accessibility
AJAX
Web 2
Mobile
Web sites that already meet WCAG or MWBP are already well on the way to meeting the other.
CSS
Testing
Testing Sevices
Vision Issues
Screen Readers
Multimedia
Podcasts / Video
Books/Reports/Magazines
Social Accessibility
Accessibility Training On-Line
Accessibility Forums On-Line
---
Accessibility Around the World
Global
Canada
European Union
United Nations
New Zeland
United States
State:

County:

City:
United Kingdom
---
Examples and Example Sites
Other Examples
American Printing House for the Blind, Inc.

Language Log: The main job of the girl brain

Their table of raw and adjusted results is here.
Scrupulously avoiding sigma [check the table] effect size

digNubia: Exploring the Science of Archaeology

Welcome to SFGOV - Official San Francisco

BART

BART has created special web pages with fewer images, less text and simple formatting that can be displayed by most mobile web browsers. Your device might show things a little differently, but click here see a working example.

Welcome to the Town of Richmond Hill Website

Visit the Town of Richmond Hill, Ontario, Canada, the municipal government that is a little north, a little nicer. Town Hall, Mayor and Council, Municipal Services, Business, Parks & Recreation, Department and Affiliate pages.
Mayor & Members of Council (2006-2010). Image is an image map allowing access to individual pages.

Fairfax County, VA

Vischeck's color vision model allows you to simulate how the world looks to people with various sorts of color deficiency.
How do babies see the world? Note: "Quick baby facts!" on the right side. Accessible? swimmers All the images have the same alt="Baby looking at toys"
Is this a "Quality Text Alternative"
title: Untitled Document, frames, "link" for The Pest House (2007) is not a link
This site is designed with accessible features and considerations to give all visitors a similar browsing experience. (Society for Technical Communication, STC, Washington DC chapter)

TV Converter Box Coupon Program Website - Privacy Policy & Accessibility screen capture

Links are not underlined and are a light blue, close to text in tone.
These examples have been created to help directly identify common 508 issues. Code is provided for advanced users.
Check the link color with CSS disabled
Linking directly to an image doesn't allow for alternative text.

Aquatic Arts - Learn by Example

In order to illustrate the best practices for accessible web page design, we have created a website that contains both Inaccessible & Accessible pages. These examples should provide solutions to the most common accessibility issues currently facing web content managers.
The Accessible University (AU) mock site was developed by AccessIT as a tool for demonstrating web accessibility principles. Index of Accessible University Pages Non-Frames Version Frames Version
Transcript available for narrated flash demonstration
In English with Japanese subtitles. English Transcript Download for iPod
The WAI Web site is designed to let you change the text size, text and background colors, and other display settings through standard browser settings.
"Introduction to the Screen Reader" with Neal Ewers of the Trace Research Center is a short 6 minute video demonstrating how screen readers assist people who are blind navigate the web, access the electronic page, and more.

About Eogogics

Animated GIFs to test for Flickering and Photosensitive Epilepsy Flicker Rate Test for GIF images

[flash images that flicker at 4Hz, 7Hz, 20Hz, and 59Hz. ]
And with the CSS disabled, we see....

NASA Goddard: Section 508 Best Practices

Example of Poor Contrast

Follow the sequence of links and take note of what your browser and computer can and cannot do. Florida Gulf Coast University

How would you make these sites more accessible?

William Gibson - Official Website
In the Beginning: Bibles Before the Year 1000 No transcript of audio
Berkeley Springs Cottage Rentals: Home 585 images w/o alt
««««edderkop net»»»» [Warning! Spiders!]
Digital Picture Postcards No images?
No Maps for these Territories - William Gibson No images?
2Advanced Studios CSS?
What's so funny about a 404 Error message? No JavaScript...