Linda Postelle
Sharing Past Lives is dedicated to sustaining the memory of artists we knew and wish to honor by sharing memories of their lives.
If you have a memory of these artists or picture or two to share please send them to Don Dunsmore at hummer@fred.net and we will add them to the site.
---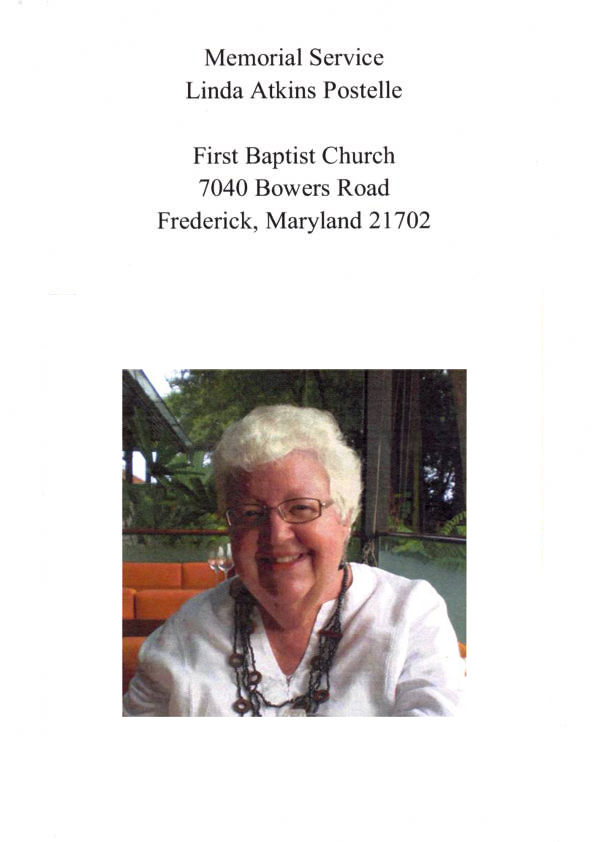 ---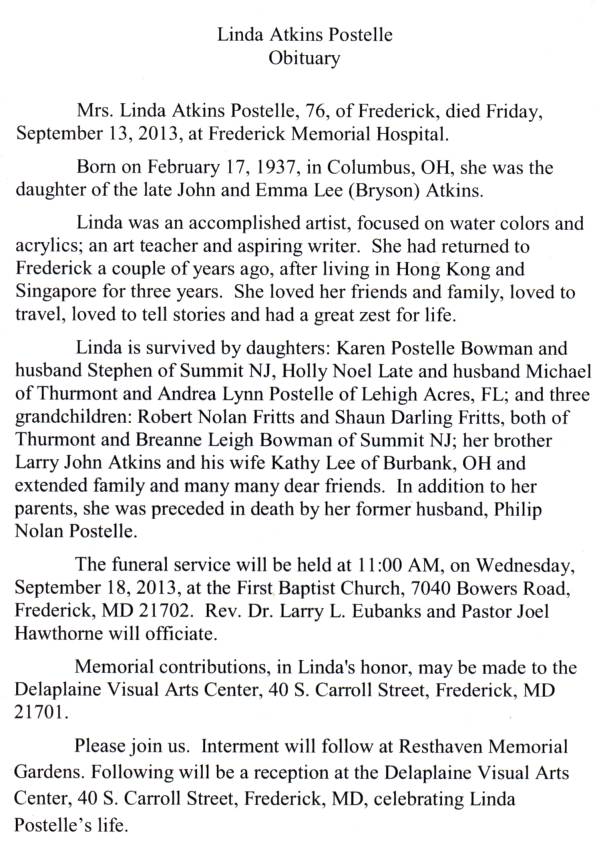 ---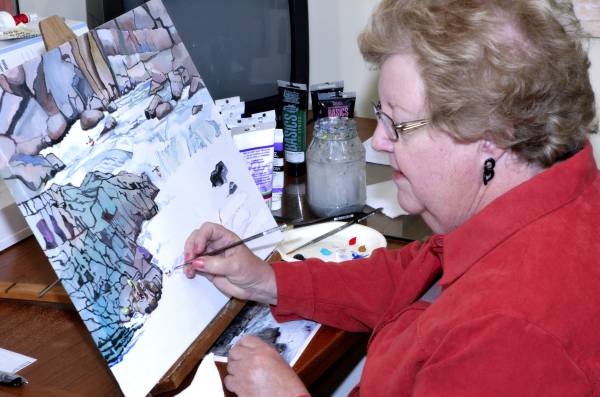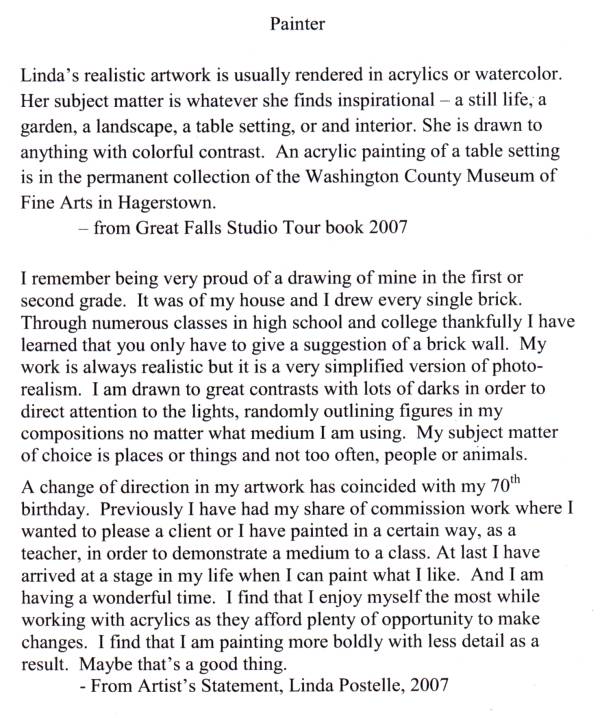 ---

---
Linda Atkins Postelle Memorial
September 18, 2013
Like us, so many of you are asking what happened? As most of you now know, mom was recently diagnosed with colon cancer; however, it seemed to have been caught early. Surgery was scheduled for 5 weeks after she was diagnosed. We were with mom all day for her surgery this past Friday. We got to give her a hug before she went into surgery but we really didn't get to communicate with her after that. She was sleeping in recovery while we sat with her, waking woozily only for the nurses to take vitals. She started having a seizure soon after a nurse visit when all had been fine. Holly noticed right away and started yelling for the nurses. The team at the hospital worked valiantly on her for two hours but we knew she was gone. Perhaps it was too much medicine for her body to handle, perhaps a clot. We really don't know what went wrong and we will never really know but it really doesn't matter as it doesn't change the outcome.
I think one aspect that makes it so hard for many of us is that we didn't get to say goodbye. Those of us who knew she had been diagnosed with cancer may have thought to ourselves that a bad outcome was possible in fighting the cancer but no one anticipated losing her in recovery after surgery.
We are getting better as each day goes by but something will trigger a memory and the floodgates will open. I went back to NJ one night this past week to pick up clothes and walked in and saw our dining room table that we had just bought with the idea of big family dinners and tears started running down my face when I realized there would be no Thanksgiving or Christmas with mom at that table.
So now, a celebration of her life. As someone said to us today, how do you capture such a big life? Mom embraced life. She loved her family. She loved her grandchildren dearly. She had many many dear friends. She just enjoyed people. She liked to sit and talk and laugh. A friend said to me that she had a way of quietly being the life of the party. And we all know she loved her martinis. She enjoyed posting and reading Facebook and keeping up with her friends around the world.
Mom was an accomplished artist. Mom was a fine arts major in college at American University, a 4.0 average and president of her sorority, a tough act to follow. She exhibited in many shows, including her own as well as group shows, she was juried into a number of shows and won many awards. Her art was selected to commemorate the bicentennial through a series of pen and ink sketches of the monuments, which were sold in the Smithsonian gallery gift shops. She is a previous Frederick holiday poster winner. She was the founder of the art league in Emmitsburg and her work was commemorated with a blanket based on her pen and ink drawings of prominent buildings in Emmitsburg. She has a still life painting in the permanent collection of the Washington County Museum of Fine Arts in Hagerstown. She often worked from her own photos and enjoyed painting colorful scenes especially where the light caught her eye. She had a sense of humor about her paintings as well. I remember one painting years ago, a farm scene, where she told us that the cows in the picture didn't know each other, for you see, the cows were painted from 2 different photos, different farms. Many of you probably have her work hanging on your walls.
Mom enjoyed teaching. She taught at Montgomery College while we were growing up and more recently taught at the Delaplaine. She loved her years at the Delaplaine and her many friends and coworkers there.
And something that not everyone may know, she loved to write. This was a passion I think she discovered in her later years. She joined writing groups in Singapore, then Hong Kong and back in the US and she was prolific. She wrote many short stories and was working on a novel. She wrote one based on her life which everyone said wouldn't sell so she was working on another novel about an art forger and in true to her style, she was able to get access to FBI agents and old prison guards to interview. Holly's husband Mickey said that we now need to work on getting that novel published.
Mom loved new adventures. As one of her dear friends commented, he loved reading about her waking up and an elephant kneeling to take her to breakfast or getting on a barge in Bangkok only to find out it was a funeral barge. She loved our trips and seeing the Taj Mahal, the Great Wall, having a martini at dusk while out on a safari drive with giraffes walking by in the background, staying in a friend's castle in France, the temples and rice paddies in Bali, mystical ruins of Angkor wat, riding around in colorful tuk tuks in Malacca, tea plantations in Malaysia, cruises with family and so much more.
My favorite was that she used to say that she had a list of things that Karen made her do which she would never ever do again which included hopping in that barge with no stairs to climb out, riding in an ox drawn cart, climbing rickety stairs to then squat on the floor in the heat to watch a Cambodian wedding and more than once having to walk up hundreds of steps to exit a cave in China or to the see 10,000 Buddha's and more. I, of course, tried to come up with things that I could coax her into doing that might later appear on that list.
And because she loved to keep up on Facebook and email, I thought it fitting to list some of the comments about her that you posted there. So many of you have written that she was full of life, a wonderful person who was talented in so many ways, a lovely person, a very talented artist, full of energy and wonderful ideas, the essence of living life in the moment, a dear artist who found humor and beauty and expressed it thru her talents to the very end, a bright light and a wonderful smile, a fun person, an inspiration, and that you loved her art, her spirit, and her love of life, a prolific writer of wonderful stories about her life. Some of you have even said her bucket list was full.
And finally, as a friend wrote, she is now making beautiful art in a better place.
Eulogy given by Karen P. Bowman at Linda's Funeral.
---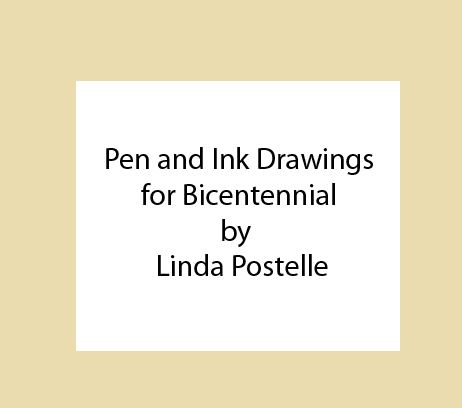 ---
Memories from Linda's Friends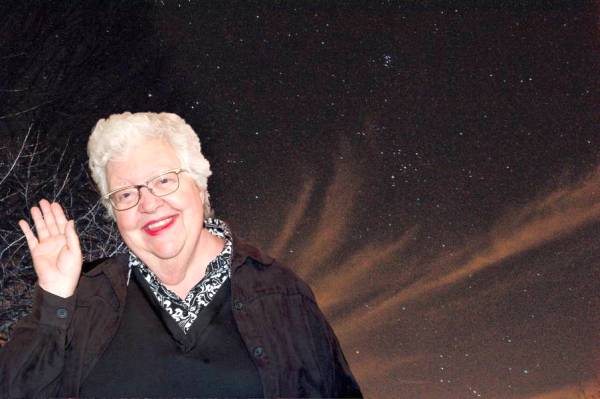 Linda Postelle, a star among us has faded. She passed away Friday, Sept 13, 2013. We will miss you Linda. Don Dunsmore
The picture above was the result of a wish by Linda. We were at a show opening and she was commenting on a picture of the big dipper that I had made and was hanging in another show. Her wish was that she always wanted a picture of herself in front of stars. I took a picture of her that night and the above image is the result. She was pleased with it.
The memories and comments that follow were posted on facebook as responses to her passing and the picture above.
Linda's facebook page has a lot of pictures of her and many more memories from her friends. You can check it out at https://www.facebook.com/linda.a.postelle
Don Dunsmore
---
Our dear friend Linda! She was supposed to live forever, so will be missed forever. Great photograph Donald Dunsmore . Really catches her joy of life! Catherine Moreland
This makes me sad, she was a great lady RIP. Jennifer Butt
So very sorry to hear this. She was a wonderful lady. Debby Weaver
My deepest sympathies to Linda's family and friends. Doris Keil-Shamieh
What a fun lady! Wendy and I helped her at Easles with making labels for the paintings. She will me missed for sure. Steve Poole
So sad to learn that. Yes, she was a star, thanks for the information. Sonia Gadra
Beautiful picture beautiful lady, so sad. Jean Frank
Linda was a joyful, artistic gem and a joy to all who knew her. She will be missed indeed. Marlene B. Young
I send my deepest sympathy and can say heaven has a colorful and talented artist. Carroll Kehne
I remember that smile so well. Rebecca Regan
This picture is absolutely perfect!!!!!!!!!!!!!!!!!!!!!!!!!!!! Love it!!! Jan Cabe Moore
Great image. Very sad. She was a love! Arts community in Frederick has lost a light! Sandra Steele
I know that Olly, Jenny, and Linda (and other Blair girls) are now together again having a great laugh. I'm so very grateful for the beautiful painting of hers that hangs in my home. Nicole Aschbrenner
This picture is overwhelming....I'm absolutely in tears. such a shock, so sad, too soon!! I will never forget her. GOD bless her family!! June Sill
Gonna be a rough week hope it's ok to share - miss you girl! Gene Stitely
Bruce told me this morning and I am so very sad. A wonderful person and a great friend for so many years. Our" maid of honor" our wedding, at the National Catheral in D.C. June 1957 ..she introduced me to Bruce. She came to Maimi one year just as I was getting back from Hawaii and she did a drawing of me in Hawaii dress..it hangs in my bed room...and I have always loved it. We went on a painting trip together one year in Maryland ..all along the eastern shore. Nancy Mcdonald
---
Here's to you Linda......