Mary Ellen Randolph
Sharing Past Lives is dedicated to sustaining the memory of artists we knew and wish to honor by sharing memories of their lives.
If you have a memory of these artists or picture or two to share please send them to Don Dunsmore at hummer@fred.net and we will add them to the site.
---
In Memory of
Mary Ellen Randolph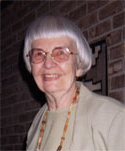 1919-2005
Associate Professor Emerita of Art, Hood College (1960-1989)
A.B. University of Arkansas (1948)
A.M. Bryn Mawr College
Mary Ellen Randolph, 86, of Frederick, MD, passed away unexpectedly on Oct. 21, at her home.

A respected local artist, art historian, and Associate Professor at Hood College for 29 years, as well as a 46 year resident of Frederick, she was the daughter of the late Joseph and Floye Randolph, who also resided in Frederick.

A native of Fayetteville Arkansas, Mary Ellen was a graduate of the University of Arkansas and earned her Master's in Fine Arts at Bryn Mawr. Her honors include a Hood Beneficial-Hodson Faculty Fellowship, a Ford Foundation grant, and a Fulbright-Hayes Grant. She was a member of Phi Beta Kappa.

Mary Ellen was well known throughout Frederick's art community and at one time served on the Mayor's Advisory Committee on the Arts and on the Board of Directors of the Delaplaine Visual Arts Education Center when the center was in its formative years. After retiring from Hood College in 1989, she remained active in the community through the Frederick Art Club, Frederick County Art Association and Frederick Torch Club. An accomplished artist, Mary Ellen's paintings, prints, and photography have been exhibited in regional and national exhibitions.

Surviving are one brother, Peyton Randolph of Silver Spring, a niece, Carol Ann Randolph of Olney, and a nephew, Joseph Randolph of Winchester, MA.

The family requests that memorial donations be made in the name of Mary Ellen Randolph to the Delaplaine Visual Art Education Center, 40 South Carroll St., Frederick, MD 21701.

An informal gathering to celebrate the life of Mary Ellen is being planned for Sunday, Nov. 13th, 1:00 P.M. at the Tatem Arts Center, Hood College.

Arrangements are being made through Dailey Funeral Home in Frederick.
---
An informal gathering to celebrate the life of Mary Ellen was held on Sunday, Nov. 13, 2005 at 1:00 P.M. at the Tatem Arts Center, Hood College.
---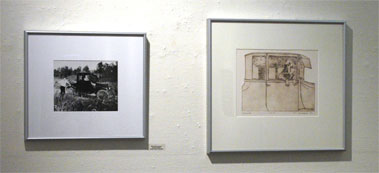 The gathering was attended by about 100 of Mary Ellen's friends and relatives. An art show of 28 art pieces by Mary Ellen (prints, photos, watercolors) were displayed on the wall of the gallery and 24 ceramic pieces were displayed throughout the show. The print of the little girl in an old car (top left) is Mary Ellen in a piece she called "Farewell", the black and white photo to the left of the print is a picture of Mary Ellen and her Brother Peyton in the car with their father, Joseph Payton Randolph next to the car.
We are all grateful to Hood College and the Hood Art Department for allowing us to use their gallery on such short notice and to the Randolph family who did so much to make the gathering possible.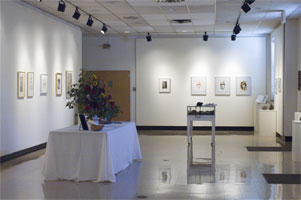 The memorial celebration was very meaningful to our family. We were delighted to meet Mary Ellen's friends, students, and colleagues. We have come back to Boston happy to know that she was well loved and appreciated by so many of those around her. Mary Ellen was never one to brag, so we only got glimpses of her Frederick life. So much of what we suspected about her giving personality was confirmed by those we met on Sunday. It was particularly wonderful to meet some of Mary Ellen's students. Christine Conko really said it all when she said," Mary Ellen- Grandma", and then pulled out a small family photo album where every photo featured Mary Ellen.

Many thanks to all of you,
Kathryn, Joe, Susan and Lisa Randolph
---
Memories of Mary Ellen Randolph by her friends:
---
Sadder than the news of Miss Randolph's passing was my thought that so often since my graduation from Hood in 1973, I have thought of her, wondered if she were still with us, and wished I could let her know how much she meant to me. Now it's too late, but I can let you know.
How often through the years have I heard her voice!
I loved her Etchings class, having her as my student teaching advisor, but even more, I felt as if she was my friend. She came to see me in a Hood Theater production, came to my wedding, invited my boyfriend inside when he stood outside the window of Tatum once during class.
Each time she bestowed upon me that smile and that giggle. From what I've read about her on her memorial page, it seems she never lost those. Just the day before I found out that she had passed away, I came across an etching she had given me as a wedding gift.
Not only will I never forget Miss Randolph, many times though the years I have wanted to BE Miss Randolph.
She was loved by so many.
Martha Kazenwadel Schlott, class of 1973
---
For many years, it has been a great privilege to have known Mary Ellen Randolph. Working with her on many projects where her knowledge of art and art history benefited local students from the Gifted and Talented Program in Frederick County, I know that she could always be counted on for her generous sharing of her valuable time and talents.
Her exemplary life has touched so many of us in the Arts community. She always exuded such enthusiasm, and never stopped observing the beauty of nature in all its wonderful forms of abstraction and realism.

Wherever her Spirit now resides, she will live on in our hearts, and she now shares a place in the realm of the dear lost artists who have gone before.
Elizabeth Prongas, MFA. AE.
---
There are fond memories of Mary Ellen as the artist and the photographer. It has been a pleasure knowing her.
Kay Hill
---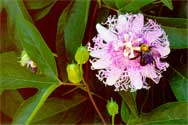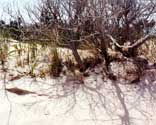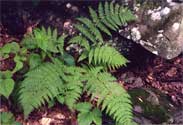 Mary Ellen took up photography when she retired. She asked me to enlarge and mat her photos so she could enter them in art shows. Here are 3 of her photos. I think she won an Honorable Mention in an FCAA Spring Art Show with the first one.
She was fascinated with compositions using shadows and ferns. On nice days we would take our cameras and go for a drive in the hills around Frederick. I had to stop the car whenever she saw a patch of ferns so she could take a picture of them.
Don Dunsmore
---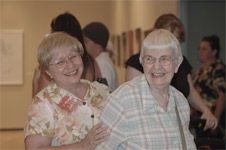 Mary Ellen attended the opening of my recent show at Carroll Community College - being the supportive friend that she was to so many. I have been wearing the hats of artist, art educator and studio art instructor and at that show I told Mary Ellen that I was in training to be her! (She played all of those parts so beautifully.) She laughed and patted me on the head! I can only begin to imagine how many in the "Frederick Art Scene" have broken hearts this week.
Margaret Dowell
---
Mary Ellen was loved by generations of Hood art students; she devoted her life to them, and they returned her devotion. She will be very much missed.
Anne Derbes, Ph.D., Professor of Art, Hood College
---
We are very saddened by the loss of Mary Ellen. She was more than a teacher, a friend, she was part of our family.
Mary Ellen was the person who cared so much as to work with me after my coma. It was Mary Ellen's devotion and love that helped me return to the Art Community after my devastating illness. She has worked with me ever since, sharing her talents and giving support. She has been a teacher, a mentor and a friend. She became part of our family, attending weddings and family gatherings. We have so many wonderful memories and cannot imagine life without Mary Ellen.
Christine Conko and Family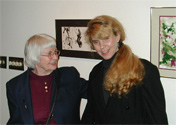 ---
A week ago one of the BRIGHTEST LIGHTS in Frederick left us behind. What Mary Ellen left us is what we all have to live up to.

There will never be enough words to express what we all feel for having known her. She touched so many. We shared a common bond in education in the Arts. Need I say more? She served on the Board of Directors at the Delaplaine Visual Arts Center and it was my pleasure to make sure she had a ride to and from.

I think that what I will remember most about "Miss Randolph", as her students still refer to her, is her enthusiasm at the Student Shows. She thought of each child as a Grandchild that exhibited in that particular Student show because she had a hand in shaping their teacher. I will always remember her saying. "These are my grandchildren." WHAT A LEGACY left by most of the teachers I know who are retiring or have retired that had a hand in passing on the touch!
What an honor to have to have been part of her life.
Barbara Maghan
---
I met Mary Ellen when I was a young teenager about 15 years ago when she was helping my sister with art. She was always so kind and thoughtful and through the years has become a surrogate grandmother to me. She always remembered that I collected elephants and almost every Christmas my gift was an elephant of some sort.
She was such a cool lady, but she never seemed like an old lady. I would always tease her that she was only 29 years old. I was always fascinated by the traveling she had done and the interesting places she had been. I will always be happy that she met Alex my baby son just a few weeks ago and that I can tell him about the great woman that held him and played with him.
I will miss her dearly and will always look fondly on the memories I have of her.
Caroline Conko-Harris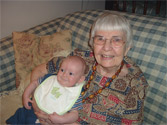 ---
I first met Mary Ellen Randolph as an art education major attending Hood College. As a student in her Graphic Arts class I had the opportunity to get to know Mary Ellen, the art educator, and Mary Ellen, the artist. I was a continuing education student at the time, and the mother of two young children. Mary Ellen adored children of all ages. She relished life and was so sensitive to the beauty and the aesthetics of her environment. I remember once discussing textures with her that led back to a childhood memory of the oil cloth covering on her mother's kitchen table. She said she was always offended by the ugliness of it. She appreciated the delicate, the fragile, the subtle beauties of life, which often went unobserved by the rest of us poor victims of a "mad dash" life-style. In her quiet enthusiastic way, she helped to teach us, the next generation of art educators, to "see" and to nurture and to pass this gift on to the students in our classrooms.
As an art teacher in Frederick County High Schools for 17 years, I enjoyed Mary Ellen's support and pride in the accomplishments of her students as I did in my own. She would hug me at student shows at the Delaplaine where my art students would be recognized for their achievements, and we would laugh and wink at the joy of passing on the legacy of creating art and expressing the wonder we "see" in the world around us. Some of the Frederick art community may remember that the young Miss Randolph had the privilege of studying with the famed American sculptor, David Smith. The gift of making art passes through the generations like a stone thrown into a pond, creating ripples that expand out further and further, the effects of which can never be quantified. Mary Ellen Randolph, your spirit lives on in the legacy you have left, in the pattern of gently waving ferns, the gurgle of a stream, the glory of a field of wildflowers.
Anne Inge
---
I wanted to express my sorrow to hear about Mary Ellen. Mary Ellen volunteered to model for my portrait class years ago. Normally I didn't paint along with the class, but this time I joined them in painting a portrait sketch of her. We enjoyed her so much. It's funny, I can still hear her voice. I will remember her as being a positive and interested and vital person. When I found out that she didn't have a car and walked literally everywhere I was very impressed!
Mary Pfister
---
I was very saddened to hear about the death of Ms. Randolph. I graduated in 1981 and I took her Art History class while I was attending Hood. I found her to be a delightful teacher and I loved the class. I still to this day refer to the textbooks that she assigned for us to read. She had so many funny stories and antidotes about the artists. It was through her gift of teaching that I found such an appreciation for the artists and the wonderful masterpieces that they created. She was truly an inspiration.
I send my sympathies to her family and her friends. I know that she will be missed.
Karen Srsic Carlson '81
---
When I think about my education at Hood College, certainly the classes that made a difference for me were Ms. Randolph's art appreciation classes. She opened my eyes to art.
Georgette Levis '65
---
My favorite class my freshman year was a hands-on art theory class taught by Mary Ellen Randolph. I have fond memories of her and her class, even though I was not an art major. She inspired me to try batik as my class project. It was a disaster, but Mary Ellen Randolph turned it around into a learning experience. Later in life I tried oil painting. It must be the legacy from Mary Ellen Randolph.
Betsy Houghton Fulmer '70
---
I was a Junior at Hood in 1960 when Mary Ellen Randolph arrived. I remember her now as I experienced her presence then -- gentle yet dignified, friendly to all, including those, like me, who never had a course with her. In those days before the feminist movement of the later 1960s, she modeled a graceful way to be in the world as a career woman. I'll always be grateful for her presence.
Rev. Sara ("Sally") Zimmerman, Class of 1962
---
I was so sad to realize that Miss Randolph is gone and I never told her how special she was--she was so much a part of my time at Hood--art history, yearbook, student teaching, methods course--always with a smile and sometimes with that devilish giggle. Every spring as I begin to teach batik, I remember learning it in her class. When I began student teaching she was concerned that I would not be forceful enough to discipline, and she showed her delight when she found out I could handle it.
Thank you, Miss Randolph.
Joan Leslie Wadsworth '72
---
I am very sad to learn of Miss Randolph's death. I was not an art major at Hood. In fact, I took art history just to fulfill one of the graduation requirements. Much to my surprise, I loved the class and, especially, her. I never developed any artistic talent, but because of Miss Randolph, I learned to appreciate art. To this day, I enjoy museum exhibits in New York City and New Jersey and am a member of the Newark Museum. Just this past summer, when my daughter also took an art history course to fulfill a college requirement, I shared fond memories of my art history class and Miss Randolph. My daughter shares my love of art and has scheduled another art class for the spring semester. In addition, during a planned vacation to Fort Lauderdale in January 2006, one of my family's main goals is to see the Tutankhamun exhibit; my husband and I enjoyed the earlier exhibit 26 years ago in New York.

Miss Randolph greatly influenced me after only one introductory course over thirty years ago. I can only imagine the influence she had on her art majors. She was an inspiring teacher and an asset to Hood. I offer condolences to her family and friends.
Karin Ninesling Infuso Class of 1970
---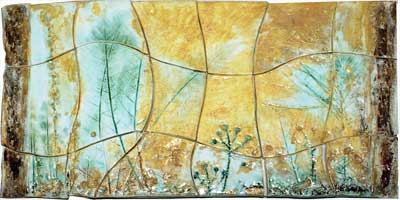 This is a ceramic tile 14" by 22" piece that Mary Ellen made. It is one of a set of 4 made by a 2003 Delaplaine Ceramics class and the mural adorns a wall in Ceramics Studio.
Jane Dunsmore Class of 1989
---
I am saddened to learn of the passing of this dear lady. She was a central part of my art studies at Hood College. I'll always remember her enthusiasm and delight as she taught both the studio and history courses. I was impressed by her giving of herself as a teacher and as a person. She was a devoted friend to a former professor, regularly visiting her as she spent her last days in a nursing home. Mary Ellen's interest in learning never waned after retirement. She accompanied me to attend a conference on Alzheimers Disease just to see what else she could learn about it's causes and treatment.

I too remember her little giggle and winks. And especially loved her endearing stories. One was how she decided her name would be Mary Ellen and not just Mary. Another, the time she pulled the door handle off the car!
I last saw her at a chance crossing of paths. She told me she was on a day trip, no stay at home retirement for this lady, and was pleased to inform me that she had just turned 80!
It was always a pleasure to be with her. I trust that she is now in the company of her dear mother and all of her other friends whose lives she touched and are so pleased to have her with them again.
Cindy Hancock Weller, Class of 1981
---